Congratulations to President Juan Manuel Santos for winning the Nobel Peace Prize!
I had the privilege of meeting the President of Colombia to discuss priorities for the implementation of the UN's Sustainable Development Goals, last year. We had an excellent discussion about how to make the world a better place as well as achieving the most good for Colombia specifically.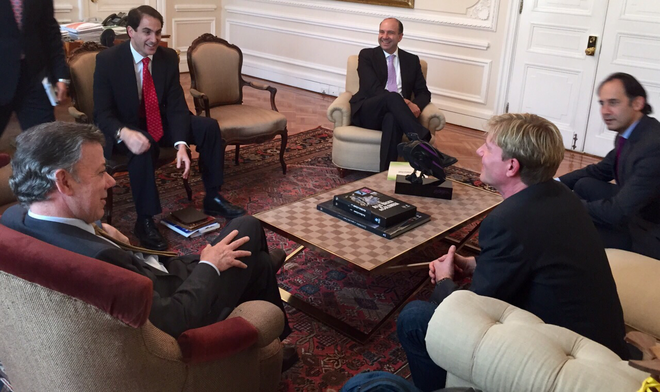 It is an honor that President Santos has repeatedly recommended the work of the Copenhagen Consensus Center, arguing that "Copenhagen Consensus is a foundation of great international prestige that sponsors many investigations into how to make the best investments to help humanity, protect the environment, generate sustainable development and effective social development. It is a very beautiful organization, with some very clear goals."
President Santos was particularly interested in the Copenhagen Consensus research on biodiversity and the protection of coral reefs. Just two weeks ago, he said that our research in this area "is the reason why when President Obama was in Hawaii... when we gathered with President Correa and the President of Costa Rica, we declared that we were going to quadruple protected areas around Malpelo, which is one of the richest areas in the world in terms of marine biodiversity." This is the kind of impact that Copenhagen Consensus is very proud of.
I wish President Santos the very best of fortune for the ongoing peace negotiations, and hope to continue our discussion on how to do the most good for Colombia across all policy areas."
- Dr. Bjorn Lomborg, President of Copenhagen Consensus Center